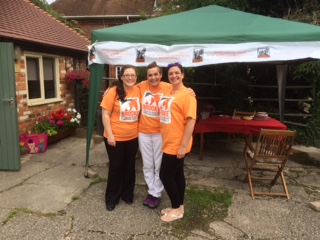 We had such a great day on Saturday and it was so lovely to see everyone!  Thanks so much for all the kind donations that enabled us to raise £358 for The Brooke charity for working horses and donkeys.  My especial thanks to Sarah and Emily who were absolute troopers, providing free taster treatments throughout the day, to Arabella for helping on the day and to my partner Chris who led meditation and held card readings.  Thanks also to our four legged supporters; Dougal the pony raised money by eating carrots, while Princess Jessica Benbow has just completed her 24 hour sponsored sleep, raising £70 of the total amount through her her efforts! Apparently she hit the wall at hour 17, but was able to sleep through it and make it to the full 24 hours!
We held a raffle for a gift box of Neal's Yard products and the draw was held with the help of Linda last night.  The lucky winner is Arabella Tancred, well deserved, lovely!
I really want to thank everyone who came or sent their best wishes once more.  We had a very special day in a very special new place and you made it possible!